Background Info
Name: Kevin Brian Thomas Jr.
Date of Birth: June 14, 1991
Married to: Whitney Thomas
Nickname: "KT" or "KTJ"
Hometown: Cullman, AL
Residence: Avon, IN
Pets: Dogs- Indi & Bo
Racing Since: 1999
Favorite Track: Kokomo
Hobbies: Golf, Go-Karts, and Sports
Favorite Place to Eat: Taco Bell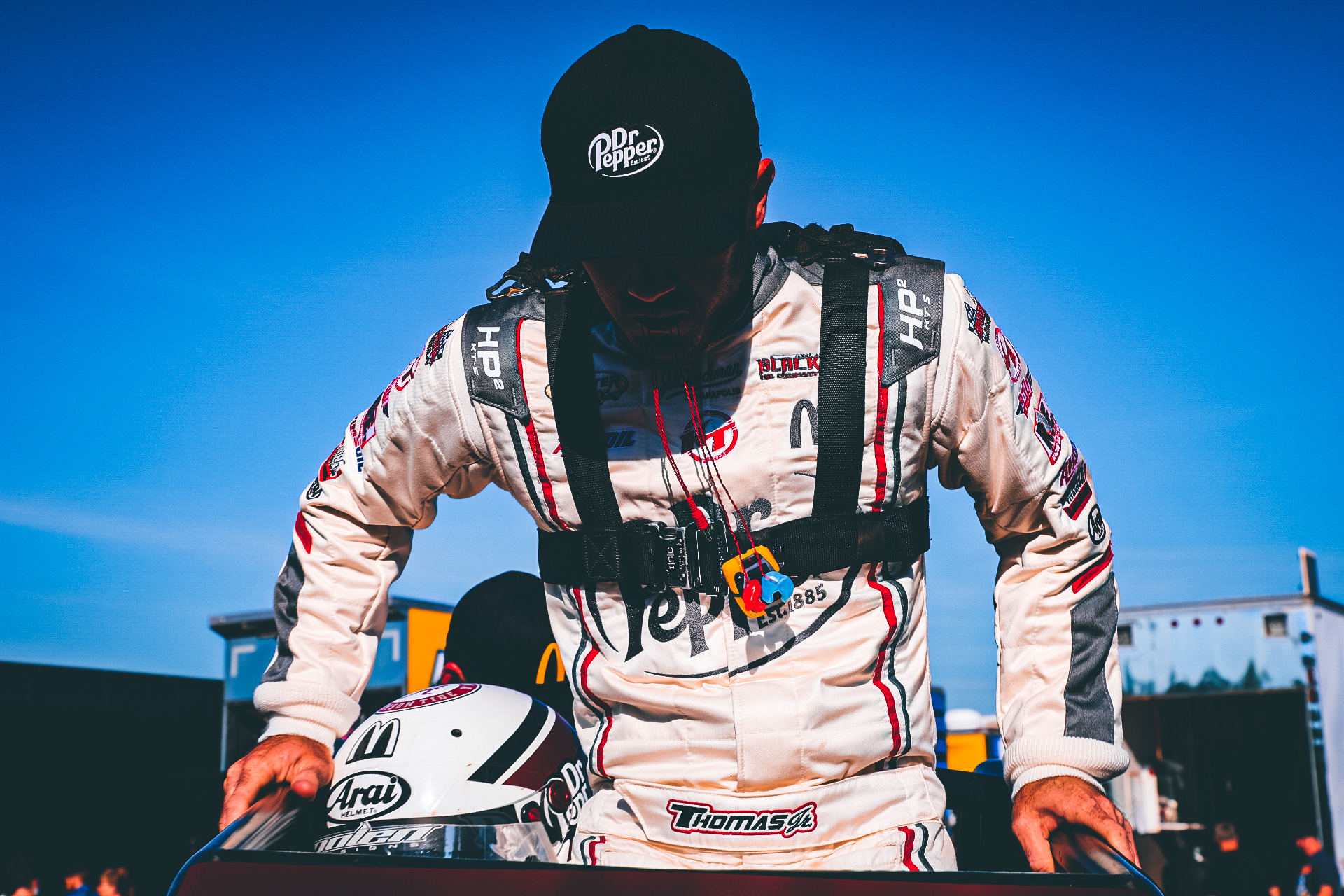 Most Memorable Moment: Passing Dave Darland to win 1st USAC Race at Bloomington Speedway
Goals: To race professionally, be an ambassador to the sport of racing, & inspire those around me to live their dreams.
29-Year-Old Cullman, Alabama native Kevin Thomas Jr. started racing at an early age, where he quickly realized he was a highly competitive person. He raced BMX bikes in the late 90's, and was the State Champion by age 8. He began racing mini-sprints at the end of 2005 and quickly graduated to sprint cars in 2007. Kevin struggled early, but continued to gain as much seat time and experience as possible.
In 2013, the USAC National Sprint Car Series voted Kevin "Most Improved Driver". He earned seven career USAC Sprint Car feature wins in 2013, catapulting him to well deserved notoriety with his peers. 2014 brought a new challenge, as he tried his hand at midget racing. Once again, Kevin proved he could excel in any type of auto racing and was named "USAC Honda National Midget Rookie of the Year". He went on to team up with the legendary Keith Kunz Motorsports powerhouse, who produced drivers such as JJ Yeley, Tony Stewart, and Kyle Larson. In 2016 Kevin was the winninest non-wing driver in the country with a total of 13 wins in one season.
Kevin formed his own team mid-season in 2017 with the help of KT Construction Services, Abreu Vineyards, Jeff's Jam It In Storage, and many other. The newly formed KT Motorsports operates under the N0.9k and went on the win the USAC Indiana Sprint week title and the Budweiser Oval Nationals. Kevin went on to be names the Bell Athlete of the Year, the North American, Non-Winged Sprint Car Poll "Driver of the Year", and the winningest non-winged driver in the country for the second year in a row.
2018 brought a new opportunity for Kevin when he was named the driver for the legendary Hoffman Auto Racing No.69. The team brought home 7 USAC National wins, won the Budweiser Oval Nationals, broke the sprint car Quick Time record with 15 in a single season, and finished in the first ever tie for the USAC National Sprint Car Championship. Kevin was awards runner-up honors after the tiebreaker was determined by wins. For the third year in a row, Kevin was names the winningest non-winged driver in the country, and racked up a total of 21 wins across four divisions of competition.
2019 was a trying year with only 7 wins, and after much consideration Kevin made the decision to return to his family owned team, KT Motorsports for the 2020 season in hopes of pursuing a USAC National Sprint Car Championship. 2020 fell short of expectation, but the team has regrouped and is ready to contend for a title in 2021, with the support of Dr Pepper, McDonald's and all our loyal partners.
After 18 years of winning, Kevin is one of the elite competitors in his sport. Kevin is an active user of social media, providing great interaction with his loyal race fans. Away from the race track Kevin enjoys playing golf, watching the Alabama Crimson Tide play football and spending time with his wife Whitney & their two dogs.
Accomplishments
2005 O'Reilly UMSA Rookie of the Year
2005 O'Reilly UMSA Most Improved Driver
2006 O'Reilly UMSA Most Improved Driver
2013 USAC National Sprint Car Most Improved Driver
2013 USAC Sprint Week Championship Runner Up
2014 USAC Honda National Midget Rookie of the Year
2015 USAC Sprint Week Championship Runner Up
2015 USAC National Super Series Runner Up
2016 Kokomo Speedway Track Champion
2016 ISCN Driver of the Year
2016 Winningest Non-Wing Driver of the Year
2017 USAC Indiana Sprint Week Champion
2017 USAC Budweiser Oval Nationals Winner
2017 Bell Helmets Athlete of the Year
2017 North American Non-Winged Sprint Car Poll "Driver of the Year"
2017 Winningest Non-Wing Driver of the Year
2018 USAC Budweiser Oval Nationals Winner
2018 Winningest Non-Wing Driver of the Year
2018 USAC National Sprint Car Runner-Up
2021 Oval Nationals Three Time Champion
2021 Haubstadt Hustler Three Time Winner
2021 USAC National Sprint Week Champion
2021 USAC National Sprint Car Runner-Up
Notables
100+ career feature wins

30+ career USAC wins

First career USAC win - Indiana Sprintweek at Bloomington Speedway

2013 "Don Smith Classic" feature winner at Terre Haute Action Track

2013 "Haubstadt Hustler" $10,000 to win feature winner

Three sets of 3 consecutive wins in a single season, rivaling only a few others

First feature win outside of Indiana came in 2015 at East Bay Raceway Park

2016 USAC SMACKDOWN V Champion

2016 Bryan Clauson Celebration of Life Winner

First Winged Sprint Car feature win at Arizona Speedway

Set the record for most "Quick Time's" in a single season with 15

Three time Haubstadt Hustler Winner 

Three time Oval Nationals Champion
Track Records

 

(in a non-wing sprint car)
Grandview Speedway - Bechtelsville, Pennsylvania - Set in 2012 - 13.360

Wilmot Raceway - Wilmot, Wisconsin - Set in 2012 - 14.665

Angell Park Speedway - Sun Prairie, Wisconsin - Set in 2015 - 13.796

I-80 Speedway - Greenwood, Nebraska -  Set in 2018 - 16.423

Tri-City Speedway - Granite City, Illinois -  Set in 2018 - 14.316

Williams Grove Speedway - Mechanicsburg, Pennsylvania -  Set in 2018 - 19.509